Beyond the Basics of
Business Planning for Leadership
Leaders can get caught handling the crisis of the day. It's challenging to look beyond it. Assure you are focused on the big picture, too. Create a roadmap for your company with a competitive strategic business plan to lead your team with purpose and focus.
If your business planning process is falling short (or failing to start at all) you'll love the dozens of tips, planning pages, and  instructional webinars included in this package. And, it's all proven in the field. You'll create your leadership plan and you'll help your agents create their plans. You'll gain tips to integrate your agents' and office plans for strong culture and focus.
Carla Cross is the author of the only internationally published book on business planning, and the CRB (Certified Real Estate Brokers) course for managers on business planning integration.  She has put together a program to solve your major business planning hurdles.
An example of the guides for leadership in the program
Solve the two major problems leaders have with business plans: How to get your agents to plan and how to teach business planning to your agents.
Webinars show you how to put your office and agent plans together so you create teamwork and focus. There's even a webinar to guide your agents through the business planning process, so you don't need to.
All the webinars are recorded, so you can access them at your convenience, and as many times as you wish. All the documents and bonuses are readily accessible at any time for you, too–forever.
Your leadership documents are included, so it's easy to design your unique plan with Carla's templates and guidance.
Your tuition includes entry to your leadership business plan and your agents' business plan, so you have all the documents and webinars at your fingertips any time you want to access them.
The most comprehensive system available under one cover… It will help associates, managers and trainers more quickly achieve success. — Mike Brodie, CRB, CRS, Past Treasurer of the National Association of Realtors, Past President Realtors National Marketing Institute®; CRS Instructor

I bought your planning system and I've just finished watching the second webinar….the tools are great and it's amazing to see what the source of my business really is…
Nanette Rocha, RE/MAX Oceanside, Flagler Beach, FL
 Carla's business planning system works. Following her concepts, I earned recognition in the top 10% of my company.
Nada Sundermeyer, #1 in sales for three years, John L. Scott, NAR Superstar Panelist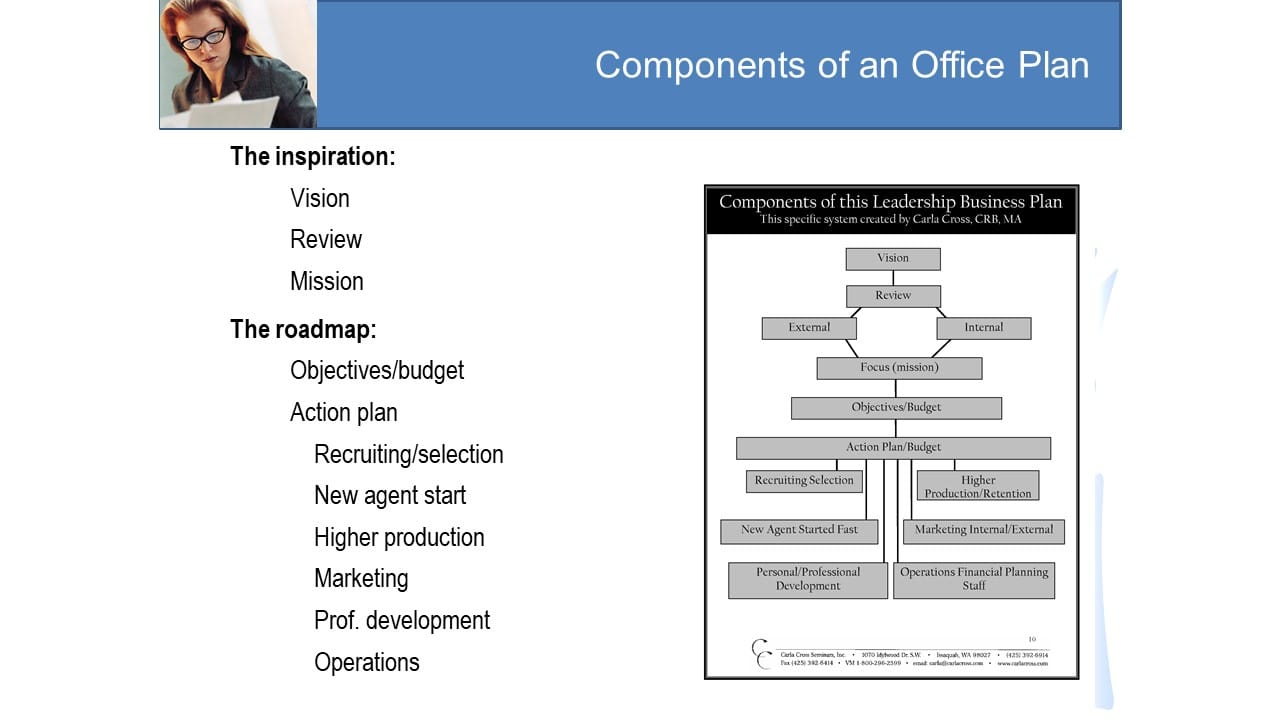 An example of a slide explaining Cross's leadership business planning system
What You'll Get in this Comprehensive Managers'
Planning Package
5 webinars:
Agents: How to Create a Great Business Plan—Part One
Agents: How to Create a Great Business Plan—Part Two
In these training webinars, Carla teaches your agents exactly how to create a strategic plan that works for them (so you don't have to). 14 major business planning templates and documents to use for your agents' plans are included in this package, too.
     3. Webinar: How to Persuade your Agents to Make Business Plans
This webinar shows you how you can assure each of your agents actually writes a good business plan.
    4. Webinar: How to Create a Great Office Plan
This webinar walks you step by step through your strategic planning process, so you create an office plan to address your greatest challenges. 15 major business planning templates documents to make your office plan are included in this package, too.
    5. Webinar: How to Integrate your Agents' and Office Plans for Greater Teamwork
This webinar shows you how to use the business planning process to integrate your agents' and office plan—providing focus, teamwork, and inspiration
Bonuses 
How to Do a Focusing Workshop to Teamify and Inspire your Office

From the Coach: 53 Pointers for your Business Plan—use with your agents to coach them to better business plans

47-page eBook: Beyond the Basics of Business Planning (for managers). This eBook walks you through 2 processes: How to get your agents to create great plans, and how to integrate your office and agent plans for greater teamwork, culturizing, and inspiration
For Teams: How to Use the Planning Process to Teamify