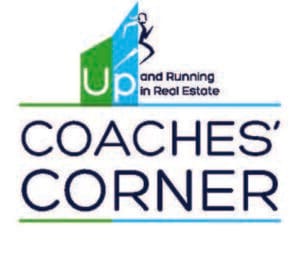 Want to gain a long-lasting business relationship with an achieving agent? Provide scholarships to Up and Running in Real Estate, the online training/coaching program for agents under 2 years (or agents re-starting or jump-starting their business).
Providing scholarships delivers these benefits to affiliates and recruiting managers:
1.     Affiliates: Gets you in front of influential managers, to help them get more production from their agents
2.     Recruiting managers: Gives you a reason to contact agents
3.     Gets you a reason to form rapport with good newer agents and an on-going relationship
4.     Involves you, as a coach (if you wish to be their coach in the program) to be a deciding factor in their success.
5.     Creates success in the agents you coach, so you create a long-term business relationship with winners
6.     Differentiates you from others as someone who is interested in more than just that agent's business
7.     Recruiting managers: Provides a distinct, tangible value for you to recruit to; provides measurable results for you to use to beat that competition!
HOW THE PROGRAM WORKS
1.     Purchase multiple tuitions (seats) of the Up and Running in Real Estate program. You may award these 'seats' throughout the year. 'Seats' purchased must be used within one year. Discounts for multiple seat purchases are listed on the website.
2.     Grab the Scholarship form, to help you choose winners.  The form is in Word, so you can edit. I have made the qualifications kind of tough, to assure you get great applicants.
3.     If you're going to coach the agents: Register as a Certified Coach, so you have access to all the coaching materials in the Coaching Corner, and you have access to the Up and Running in Real Estate program and that agent's work. A Certified Coach is $99 per year.   For this program to be successful with your agents, someone needs to be a dedicated coach. This will also form rapport and retention.
4.     Promote the program to managers and agents. There is a preview and promotional information on the website
5.     Customize the scholarship application here.
6.     After you have agents in the program, track their successes and get their OK to promote those successes.
IDEA: AFFILIATES AND MANAGERS: WORK TOGETHER TO PROVIDE SCHOLARSHIPS. IT'S A WIN-WIN FOR EVERYONE!