The Training, Coaching, and Plan to Make a Sale Fast
It can be overwhelming for a new agent to schedule business correctly, and take actions that pay off quickly. Get the right start with this proven online business start-up plan—the plan successful agents follow, along with the training to make a sale, fast. Not just the plan, though, this program includes the coaching, training, and support you need to make money now.
For agents under two years in the business, and those wanting to reenergize their careers.
Up and Running is built on the foundation of a unique business start-up plan, the same priorities successful agents use to run their businesses with purpose. Instead of wondering what to do each day, and whether it will work.  Up and Running lays out a specific plan to follow to gain results fast. You gain the principles, processes, and systems to continue your proven plan throughout your career. It's long-term, not short-term!
The Future Superstar's Plan
Here are examples of a week's prioritized checklist, so you stay on track, learn super-agent priorities, and make money faster. Take a look, too, at the pre-first visit checklist, an example of the detailed, high-level processes included in the program, so you'll be performing like a top producer.
Bonus! Live Zoom Coaching Weekly
Once a week, Carla schedules a Zoom call with attendees and their coaches registered. There's a new topic each week, and Carla answers questions and provides support to registrants.
Coaches are welcome to attend, too, to support their agents in the program.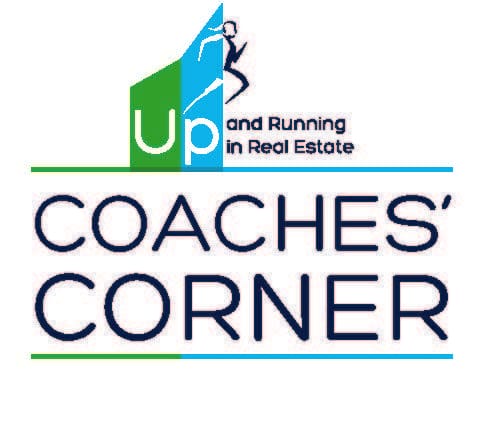 Managers: 

Coach your Agents to Assure They Get Results from the Program
We've added a coaching component, with all the information and guidance you need to coach your agents successfully.
Coaches' Corner Investment–$99 for one year. This is a one-time fee. You can register as many agents as you want and be named their coach.
Managers: The systems in Up and Running are great for training, too. Your agent will save hundreds of hours and win much more often with a clear process to follow. You'll create better retention, and your success numbers from the program will help you recruit great agents. Carla provides tips on how to use the Up and Running materials in your sales meetings and trainings, too.
Discounts: Managers can buy multiple 'seats' for Up and Running in Real Estate and have a whole year to use them. This gets the price down to as low as $179 per person!  Read about quantity purchases here.
Read more here.