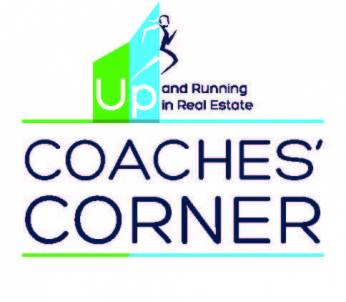 Provide coaching with a professional touch to your agents in Up and Running in Real Estate.
Most agents won't complete a training program if they have to 'go it alone'—especially online. They need a coach's guidance and support.
Use a proven system to start your agents (or re-start them) toward a successful business. Coaches' Corner contains step-by-step guidelines to coach your agent each week to the Up and Running in Real Estate program. Save your time; get more production from your new agents; create loyalty and retention.
Want to provide Up and Running in Real Estate to several of your agents throughout the year? Check out our multiple purchase discounts here.
Become a Certified Coaches' Corner Coach
When you join Coaches' Corner, you become a Certified Coach for the program.
You'll get:
Access to your agents' work and folder(s) on the Up and Running in Real Estate site so you can see the work they have completed at any time (great to prepare for coaching sessions)
Complimentary entry to the entire Up and Running in Real Estate program, so you can see all the information, videos, documents, and checklists your agent is receiving in the program (when you have an agent registered in the program)
Use of all the exclusive coaching materials and resources (including videos and webinars) to coach your agent clients to the principles of Up and Running in Real Estate.
Coaching guidance throughout the program from Carla Cross.
Included: Carla provides weekly Zoom group coaching meetings with your agents and you, to motivate, inspire and coach you and your agents.
$99 for one year's entry. You can have as many agents as you want in the program (just pay the agent fees or have agents pay the fees).
The Recommended Coach
Affiliates and Independent Coaches: Use the Up and Running Program to gain and coach your valued agents.
Carla has created the Recommended Coach program to enable affiliates and independent coaches to use the Up and Running in Real Estate program to coach.
Affiliates: This is a great way to offer support to those agents you know will become loyal producers.
Click here to find out more.
Provide Scholarships
Want to create loyalty and support more productive agents? Provide scholarships to new and striving agents. Great for recruiting. Awesome for affiliates.
Read more here.