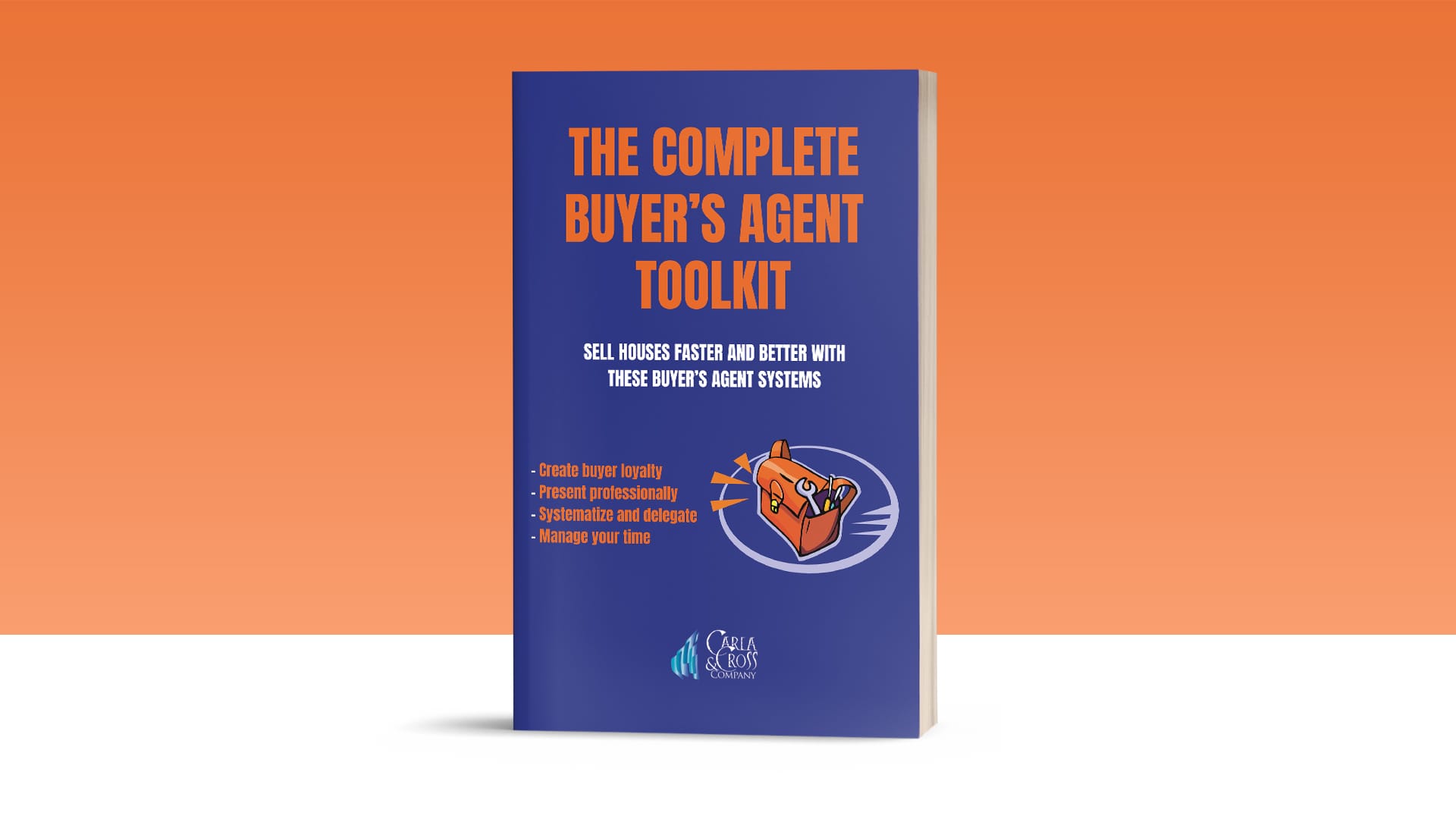 List More Buyers! The Coaching, System and Processes You Need for Buyer Loyalty
Consulting and educating buyers is the most important action you can take. Create confidence, professionalism, and trust with this comprehensive buyer agent guide.
Bonus: Toolkit PowerPoint slides to educate buyers with latest statistics.
(We can't name names, but one very prominent instructor for the Accredited Buyer Representative (ABR) course told us this resource made the ABR course look puny!)
"I just wanted you to know I purchased your Buyer Agent resource and I absolutely love it!  It has made a big difference in getting my buyers to list with me.  I teach buyer counseling at our board for CE credit.  If my students want more information, I send them to your web site.  Thank you for all your great help."
Dianne Scalza, Licensed Associate Broker, Netter Real Estate, West Islip, NY
If your commission rates are being threatened, if you're having trouble closing buyers, if you're having difficulty getting buyer loyalty, step up to the sales strategies and systems to provide "value-added" services explained here. In this challenging market, your success with buyers can increase your income dramatically!
"The Complete Buyer Agent Toolkit is perfect! I was able to use it with ease right away. The checklists and especially "Your guide to purchasing a Home" were very impactful on a new buyer I recently met. I am so glad I invested in this invaluable resource.
Thank You,"
Xavier Bryan, Newport News, VA.
In this Resource:
24 slide PowerPoint presentation for buyers, ready to customize (for your buyer's presentation)
Over 20 checklists, processes and systems for you and your team—a great tool for the agent with assistants and buyers' agents
Role plays on audios demonstrate the unique "consultative" process here to gain buyer cooperation, loyalty, protect your commission rates
3 buyer packages to create "value-added" services (they've never seen anything like this!)
Pre-Appointment Package: checklist with all the information you need to create a dynamic package, plus 6 other forms, downloadable and customizable
40 page Guide to Purchasing your Home, for the buyer, ready to customize—to prove your value
Agent's buyer presentation guide, including a tutorial for you, so you'll be a master presenter (you've never seen something like this)
The Home Buyer's System: a 9-page guide for the home buyer to use during his buying process—added value to the buyer for working with you
"I received my copy of The Complete Buyer's Agent Toolkit the other day and I wanted you to know how impressed I am with it. I am finishing my first full year as a second-career real estate agent (after 30 years with the federal government.
Thanks a bunch,"
Jerry Semler, Big Hill GMAC Real Estate, Dayton, Ohio
I have been teaching Buyer Agency since 1990. This is the most complete material to fully train an agent in the field of buyer representation. What a great resource! Marcie Roggow, Senior ABR/M (Accredited Buyer's Agent designation) Instructor, Train the Trainer for ABR instructors since 1996, REBAC Hall of Fame. Marcie is the leading Realtor authority/instructor for Buyer Agency.
I am a new agent. My manager let me look through "The Complete Buyer's Agent Toolkit" that was just completed and it's absolutely AWESOME!! This is exactly what I need to "pull it all together" in order to benefit my clients and give my new business a sound foundation. Best regards!
Russ Sorkness, www.netresultsrealty.com, Kent, WA